LUXYAL® PLUS
THE BEST PERFORMING TEAR IN TERMS OF VICOSITY AND MUCOADHESIVITY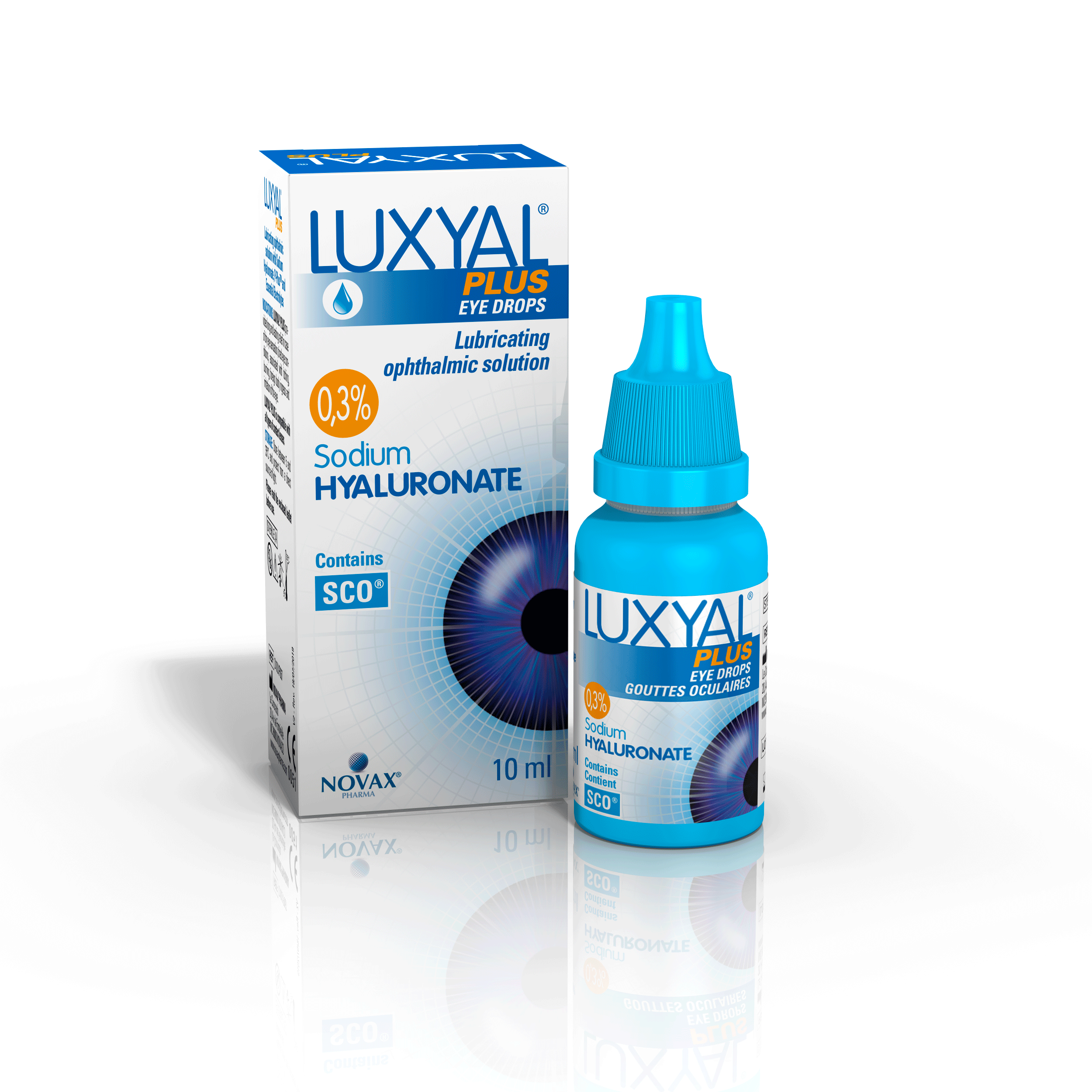 Indicated for :
LUXYAL® Plus provides long and lasting relief in case of dry eye sensation, tired eye conditions, associated with itching, burning, foreign body ingress and irritation of the eye, caused by pathological or non-pathological conditions associated with external factors such as prolonged exposure to screens and monitors, air conditioning, air pollution, smoke etc.
WITH SODIUM HYALURONATE 0,30%
- A highly hydrophilic physiological polymer.
- Provides LUXYAL®PLUS with biophysical properties similar to those of natural tears.
- Has an optimum molecular weight.
WITH P-PLUS™
- Has filmogenous, bioadhesive and lubricant properties.
- Enhances the effectiveness of sodium hyaluronate.
- A substitute for mucin in artificial tears.
- Improves tear break-up time (TBUT), and symptoms in severe dry-eye patients.
AND WITH SCO®
LUXYAL® Plus is preserved with a special preservative system called SCO® (Stabilized Complex Oxychloro) that keeps the solution sterile in the bottle. When exposed to light, SCO® dissipates into components naturally found in human tears such as sodium chloride, oxygen and water, making it very well tolerated.
♦ HIGH LUBRICATING POWER Stabilises the lachrymal film
♦ HIGH VISCOSITY POWER Long-lasting effect, improved vision quality
♦ HIGH MUCOADHESIVITY ACTION Bioadhesive to the corneal epithelium
♦ A SAFE BIODEGRADABLE PRESERVATIVE Absence of epithelial toxicity, preservative-free in the eye
> Brochure ( Pdf

)
> Guide ( Pdf

)
> Leaflet ( Pdf

)