FLORA VISION® IRRITATED EYE DROPS / EYE SPRAY
A NEW LINE OF NATURALLY BASED FORMULATIONS FOR THE RELIEF OF EYES AFFECTED BY EXTERNAL FACTORST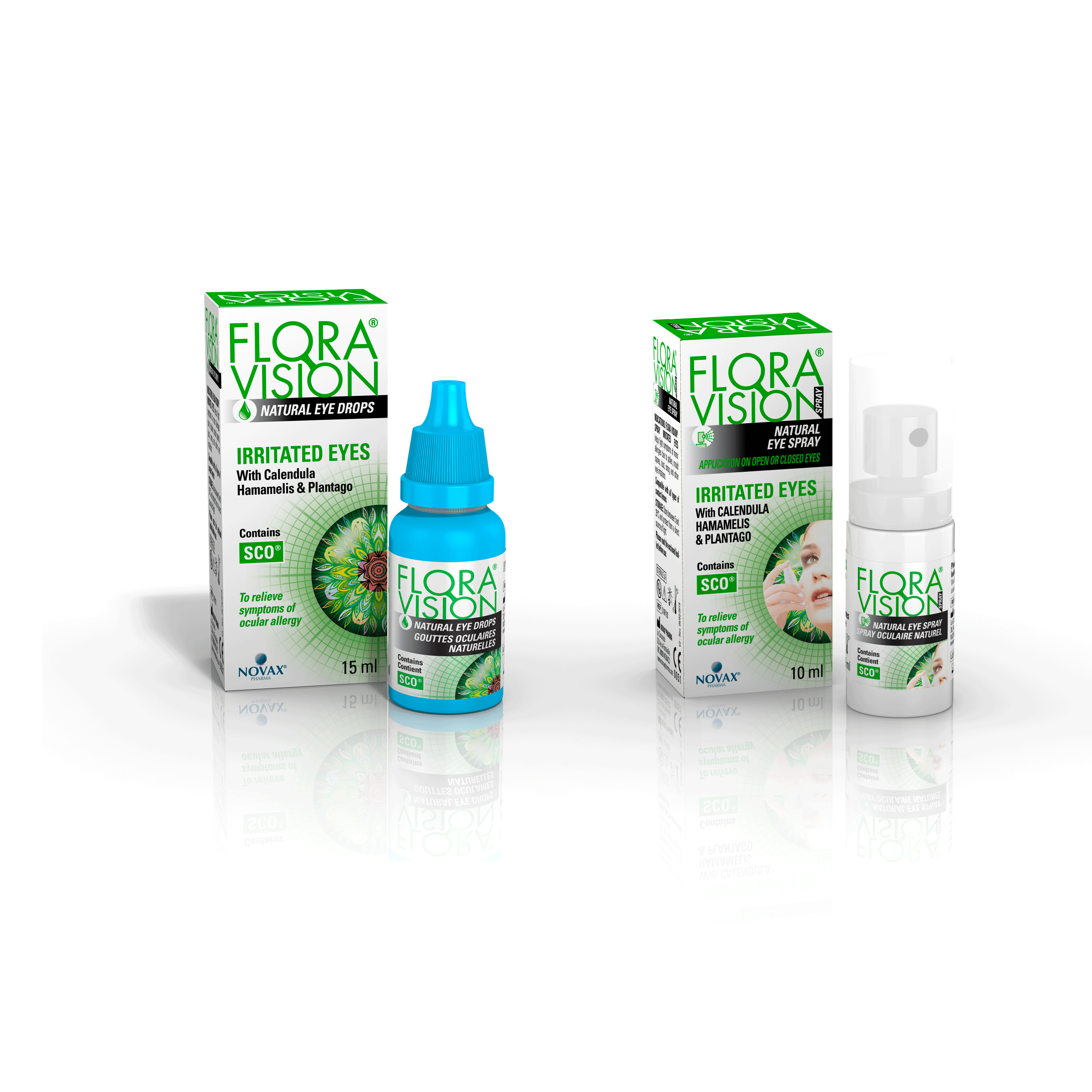 Indicated for :
FLORA VISION® IRRITATED EYES :
✔ helps to fight symptoms of minor allergies due to pollen, mould spores, dust, smog and other eye irritations.
✔ brings quick and lasting relief in case of irritated eyes caused by pathological or non-pathological conditions associated with external factors such as prolonged exposure to screens and monitors, air conditioning, dust, pollution smoke, sunlight.
WITH SODIUM HYALURONATE 0,30%
- A highly hydrophilic physiological polymer.
- Has an optimum molecular weight.
WITH P-PLUSTM
- Has filmogenous, bioadhesive and lubricant properties.
- Enhances the effectiveness of sodium hyaluronate.
- A substitute for mucin in artificial tears.
WITH CALENDULA & HAMAMELIS & PLANTAGO
- A unique combination of three natural plant extracts which together moisturise, protect the eye from oxidative stress and soothe the eye in case of allergy-related irritations.
AND WITH SCO®
FLORA VISION® IRRITATED EYES is preserved with a special preservative system called SCO® (Stabilized Complex Oxychloro) that keeps the solution sterile in the bottle. When exposed to light, SCO® dissipates into components naturally found in human tears such as sodium chloride, oxygen and water, making it very well tolerated.
♦ RELIEF FROM SYMPTOMS OF OCULAR ALLERGY
♦ ADVANCED BLEND OF OCULAR LUBRICANTS CONTAINING CALENDULA, HAMAMELIS, PLANTAGO, SODIUM HYALURONATE, P-PLUSTM AND ELECTROLYTES
♦PRESERVED WITH SCO®, A SPECIAL PRESERVATIVE SYSTEM THAT IS EFFECTIVE, SAFE AND NON-TOXIC
♦ Brings fast and long lasting relief to the symptoms of eye irritation, itching, burning, foreign body sensation, due to ocular allergies.
> Brochure ( Pdf

)
> Guide ( Pdf

)